Commercial Janitorial and Custodial Services
Welcome to McLemore Building Maintenance, your go-to source for comprehensive commercial cleaning and custodial maintenance services for the manufacturing and education industries. We specialize in providing daily janitorial services for manufacturing and educational facilities, with a focus on serving these sectors 5 days a week.
We understand that maintaining a clean and organized facility is critical for the productivity and success of your business, which is why our team of highly trained and experienced cleaners is dedicated to providing the highest level of service.
Our services include daily office cleaning, deep cleaning, industrial cleaning, equipment cleaning, floor maintenance, and more, all tailored to meet the unique needs of the manufacturing and education industries. Our schedule is flexible, and we can work around your operations to minimize disruption.
We use only the highest quality cleaning products and equipment to ensure the best results. All of our team members are fully trained and insured for your peace of mind. Our top priority is customer satisfaction, and we are dedicated to going above and beyond to exceed your expectations.
Don't let dirty and disorganized premises affect the productivity of your facility, contact us today to schedule your first cleaning and discover the difference a professional cleaning team can make. You'll be glad you did.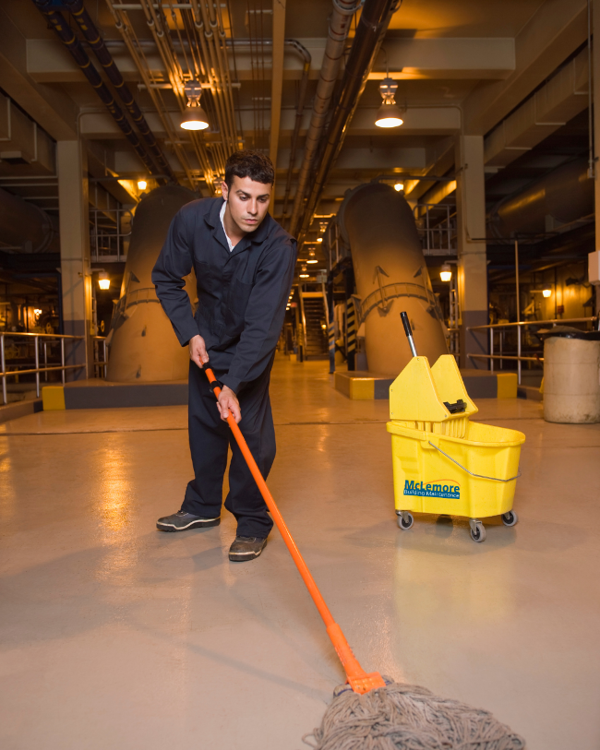 Your trusted cleaning expert, ensuring healthy & clean facilities since 1970.
McLemore has comprehensive experience in providing janitorial and related facility services that meet the needs of our clients' specific environments. Our professional team provides you peace of mind that facility services are managed with care to ensure the longevity of your assets.
McLemore specializes in being an extension of your staff-onsite every day
It is our mission to provide a clean, safe, and continuously improving environment for ourselves and others. We track Key Performance Indicators (KPI) to ensure we are constantly improving and growing with the needs of your company.
Day Cleaning

Day cleaning combines the best practices of green cleaning executed in the daytime hours. We will work closely with your team to create a plan on how to execute our cleaning strategies daily.

Restroom Sanitizing

Our team ensures that your restrooms are kept clean and sanitized, including cleaning and disinfecting surfaces, stocking supplies, and addressing maintenance issues. Our color-coded cleaning system quickly identifies general cleaning supplies from restroom cleaning or streak-free surfaces like glass and windows.

Floor Maintenance

Our flooring experts, specially trained to clean and maintain each type of floors, from tile and hardwood to VCT and carpet, are dedicated to keeping your floors in top condition. Their goal is to make your floors sparkle and shine.

Porter Services

Daily cleaning and upkeep of your business's common areas, such as the lobby, conference rooms, restrooms, and break rooms. This will ensure that your workplace stays clean and presentable for employees and customers alike.
Carpet Extraction

Proper maintenance helps improve indoor air quality and extend carpet life. Our green cleaning processes reduce wear and tear, and our quick-dry system decreases downtime.

Upholstery Cleaning

We offer professional cleaning for office upholstered furniture to maintain their appearance and extend their lifespan.

Window Washing

Whether it's a one-story or high-rise building, we can help improve your view! Our team of trained professionals makes sure your windows are safely and correctly cleaned, enhancing the image of your facility.

Trash Removal

Leave the dirty work to us at McLemore! We understand that trash removal may not be a glamorous task, which is why we are more than happy to take it on for you. Our team will empty all trash receptacles on a daily basis and provide the necessary bags to replace them, ensuring your premises always stays tidy and clean.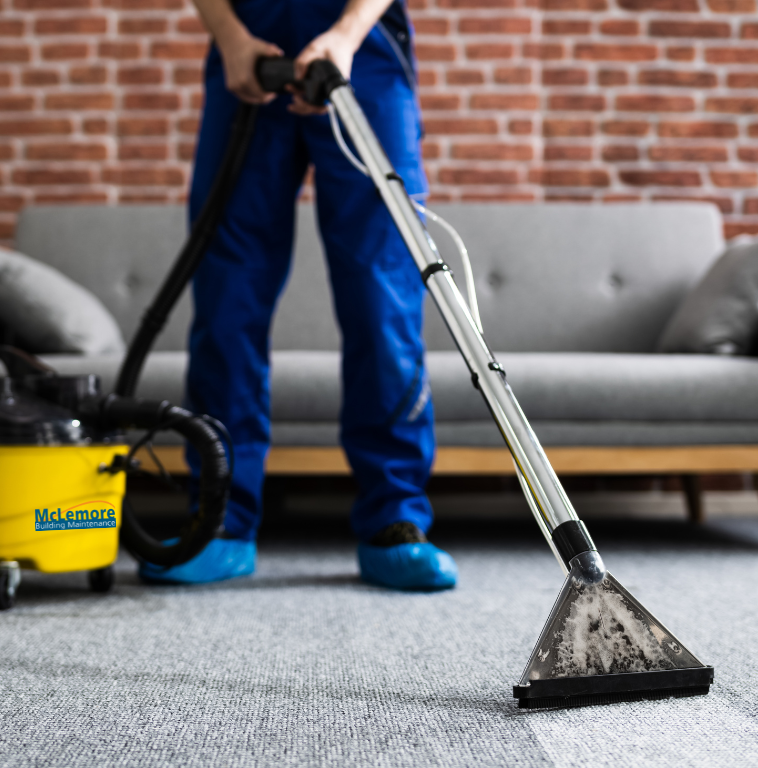 "The leadership here would like to directly comment on the outstanding service we have received from Maria, the Day Porter, and the ladies on the night cleaning crew. Since opening the facility in June of 2008, this building continually is a showplace to prospective clients, customers, investors, market analysts, and our own employees. We take great pride in our work and our facility as do the people from McLemore working on our team. We feel the quality of work, attitude, and dedication of your crew reflects positively on our company. We thank them every opportunity we get."
Competency Program Manager,
Oilfield Services Company
Touchpoint Cleaning
This involves deploying a professional on a set route through your facility to clean and disinfect frequently touched areas and fixtures throughout the day; think door pull knobs, sink handles, and water fountains.
Microfiber Cloths
Microfiber clothes trap and lock dust, preventing contaminants from becoming airborne as well as avoiding cross-contamination.
Facility + For Disinfection
This hospital-grade disinfectant is McLemore's proven and preferred defense for surface sanitation. In addition, facility+ is effective against COVID-19 under the EPA Certification for Emerging Pathogens.
Electrostatic Spraying
McLemore adopted electrostatic spraying systems as part of our standard practices in response to customer's needs in 2017.